INNOVATION
Roll More.
OTR's ability to INNOVATE begins with translating a customer problem or market need into a value added product, service or logistics solution. Our team will assist you in defining the problem, setting targets and executing the program, from concept to end customer.
NDX™ UTILITY VEHICLE TIRE & WHEEL SOLUTIONS
NDX is a game-changing solution for commercial turf equipment, such as zero-turn, riding and stand-on mowers, as well as utility and rough terrain vehicles (UTVs/RTVs) used primarily at worksites. Sold as a system – tire and wheel included – NDX's innovative airless design and construction eliminates costly downtime from flat tires.
---
DEFLATION SYSTEM FOR OTR'S BOLT-TOGETHER ALUMINUM WHEELS
OTR has developed a deflation system for our 2-piece bolt-together aluminum mobile crane wheel line. Significant features include:
Reduced deflation time when servicing and/or replacing tires.
Barrier in the form of a nut-cover ring that prevents the flanged nuts, used to clamp the wheel halves together from being accidently removed while the assembly is inflated.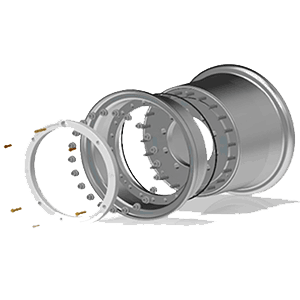 ---